I grew up in rural Western Pennsylvania, and the trip from town to home would be a twenty-minute drive.  Once we got to the top of the mountain we lived on, whoever was driving would make a right turn onto our street and the trip would come to an end as the car pulled into the driveway.  On one of those trips I'd ask my Dad, "what would happen if we kept driving on this road, where would we wind up?"  He'd tell me the name of the next town over, and I'd ask again "what would happen if we stayed on this road for as long as we could, where would we end up then?"  And at that young age, the seeds of a road trip were planted!
I always wanted to drive across the country.  Once I graduated from high school it wasn't possible because I was working two jobs and wouldn't have been able to get the time off before college started.  In college I came close, but something would always come up last minute that would prevent the trip from taking place.  So who would have thought that a few years after college that I'd be having a conversation with a friend to get back into riding motorcycles.  He suggested that we both get them and take a road trip.  On my drive back to CT I thought over the possibility of it.  My first motorcycle was a used Suzuki Katana 750.   Having never ridden before, it wasn't the smartest choice for a college sophomore to buy, but the price was right!  I owned this bike for a few years and then finally sold it because I felt that if I didn't manage to have it stolen, someone was going to eventually hit me while riding in Philadelphia.  Six years later I no longer felt I had to worry about either situation.
In August of 2006 I signed up to take the MSF course for the second time in my life, and despite it raining the entire time I was out on the course, I managed to get the highest score in my class.  As they say, I now felt confident that I could operate a motorcycle safely in a parking lot!  A month later I was the proud owner of a Yamaha FZ6.  Getting the bike during the coldest part of the year didn't dampen my spirits; I managed to put 3000 miles on over the winter.   I also started to prepare for some longer trips.  I picked up a three piece GIVI luggage set and continued to rack up the miles as spring turned into summer.  I took a few short trips, including an FZ6 meet-up in the Catskill Mountains where I had my first motorcycle camping experience with 3 other riders.  A month later I was down in Shenandoah, VA for a 9 day camping trip.  After these two trips I knew I'd be able to bring everything along that I'd need to survive for 17 days away from home.
Planning for the trip took place one weekend in January around the time of the motorcycle convention in Washington DC.  Over the next 6 months the plans basically sat in a far away folder on my flash drive until before I knew it, August was here.  Once the directions were revisited I was amazed at how thorough we had been during the initial planning phase.  I did some maintenance to the bike to prepare for the trip: a Top Saddlery seat, oil change, new tires, new brake fluid, new air filter, and a good bath.  I was ready to go… oh, 23 more days until I leave!
The FZ6 has a known issue with the Throttle Position Sensor (TPS), and they've all been recalled.  I have one of the first of the FZ6's sold in the country and never had any of the symptoms, so I figured I must have gotten lucky.  I'm sure no one sees where this is going.  To keep things exciting mine decided to fail eight days before I leave for the trip.  I found out it was failing as I went to turn onto an Interstate on-ramp and the bike shut off on me.  It did it again while accelerating onto another Interstate later that day.  After calling five Yamaha dealers I finally found one that was sympathetic and would order the part with rush shipping and do the repair work the day before I left for the trip!  I dropped the bike off on Thursday and it was ready 2 hours before I left on Friday.  I had a heart attack when I dropped it off and the guy had no record of me or the part, but somehow they did the work.
When the trip was first planned it was to be 6350 miles and after a few revisions it went to 7000 miles.  It was actually 7164 miles, so we weren't too far off.  The first day was an easy ride from CT to DE to meet up with the two other guys going.  250 miles later I made it there Friday evening feeling great about the trip ahead.  After a night on the air mattress we were packed up and ready to leave by 9:00 Saturday morning, an hour behind when we planned on leaving.  Turns out that this would be our earliest start time for a day!  The trip had been planned out in pretty good detail using Microsoft Streets and Trips.  So when we left we did what any logical person would do, toss those directions aside and use the AAA TripTik's which no one bothered to look over.
The muggy and hot weather of DE changed once we got through the Allegany tunnel on the PA turnpike to comfortable riding conditions.  In Western PA we visited my parents for lunch and then continued on the way.  In Ohio we pulled off at a rest stop deciding whether or not we should put on our rain gear.  We decided that it looked sunny just ahead of the storm, so we agreed to ride through it.  Once our legs swung over the seat it started to rain and a worker from the rest stop came running out saying to follow him.  We didn't really understand what he was so excited about though we followed him on our bikes to a maintenance shed behind the rest stop.  Turns out our helmets were blocking the sounds of the three tornado sirens in the distance.  They touched down just North of where we were riding.  It was here that we decided to check and see how many more miles we have to go when we noticed that AAA has us going 800 miles the first day and the original directions had us going 600 miles.  400 miles into the trip, we were about halfway through the first day and it was already evening.  It seemed like we had dodged riding through our first rain storm, though we had on our rain gear to keep us dry from the road spray.  We made it to Indianapolis late that night where we stayed at a Days Inn.
The second day of the trip was more of the first, just pressing on to get through the central states to make it to our first national park.  It was on this day that we were amazed that shipping companies can get a package to any address.  The second day of riding was much easier on us than the first and I don't think any of us were sore.  This day was also when we started to meet the 'personalities' that would be our entertainment for the trip.  One lady had a voice deeper than any we've heard before, so we created a husband for her called Winston!
The third day was the last day of heavy miles to get to our first destination:  Badlands National Park in South Dakota.  Seeing signs for the Corn Palace along the way we decided to stop and see what it was.  It was the first and last tourist trap we stopped at.  As far as we could tell, it didn't appear to be anything more than a high school gym with a better snack selection.  It was great to watch someone vacuum the air return grates on the wall while someone else washed the concrete seating area.  Sorry Wall Drug (a few states later) but the Corn Palace ruined any chance of us visiting!  Today was also the first mechanical failure on the bike.  Around 120 MPH and at full throttle I decided it was a good time to stop accelerating.  The bike disagreed and the throttle would not budge.  It was jammed.  I guess if something like this has to happen it's good it happens in the middle of nowhere (that is unless you need to get something fixed!)  Clutch in and engine kill switch later, I was on the side of the road expecting a broken throttle cable.  I took apart the throttle controls and noticed that while the cables weren't broken, they wouldn't move either way.  I put that back together and started to look at the engine.  Turns out a bolt had fallen into the throttle return spring.  Since it's behind the frame it took a few minute to work the bolt out, but once it was out everything was back to normal and the trip continued.  That evening saw us cross into South Dakota where it was noticed that the change of scenery isn't gradual.  It goes from corn to hills almost instantaneously.  It started to rain that evening as we pulled into the National Park, which let for some good pictures with double rainbows forming.  We ate at a small bar in a town of 67 people.
Day 4 had us riding through the Badlands, Needles Highway, and a few other roads that were suggested.  It also let us know that for how big the world is, how small it is too.  On sportbikes.net a user has been really helpful with pictures of his modifications to his bike, along with helping me decide which seat to get.  On a never ending highway in Wyoming we passed an FZ6 on the side of the road.  We pulled into the gas station up the street and met Adrian (Caladin) in person.  We all talked for a long while and it turns out he's on the same kind of trip that we are, leaving from Canada, he's visiting many of the same parks we are.  We all rode together for the next few days, separating when we headed to the Grand Canyon and I believe he was going to Bryce National Park.
While riding in the middle of nowhere I started to wonder why housing complexes are built 10 feet from the Interstate in these rural areas.  On the East coast there isn't much of a choice in land, but out West I don't think they have these issues.
Day 5 was a long day with great scenery.  We spent the night camping at Arches National Park and enjoyed the twisties on 134 leading to I-70, which was an amazing ride through the canyon.  It was also the day we all found out that our rain gear doesn't work.  It's not an exciting story, just imagine being wet!
Day 6 was by far the most exhausting day yet.  It started with awesome views from Rocky Mountain National Park.  We were headed to the Grand Canyon and didn't make it in until at least 2:30am.  (I think it was 5:30am EST, I never changed my clock on the bike.)  During the ride in we saw a storm in the distance which quickly moved over to us.  After we pulled over and finally got our rain gear on it stopped raining.  We kept it on and I was happy I did as the weather soon turned very cold.  In the same day we were just in the 100's and now it was in the 40's.  We were soon riding through a dust storm where no one wanted to stop for fear of being blown over.  Twice I was pushed into the other lane of traffic.  We were laughing that in a few turns we didn't counter steer to turn into them, we steered into them so we could stay on the road.  It was the weirdest feeling to have on a bike.  When we did make it to the Grand Canyon a sign was kind enough to tell us that all of the campsites were full.  It made sense, this was Labor Day weekend and none of us thought to make reservations.  We met up with a ranger who said he would give us an emergency site just to get us off of the road.  Turns out the lodge had 1 room available, so we took it and instantly fell asleep.  Now the only place that the deer and bears would be seen would be in our dreams, not on our bikes!
Day 7 was our first rest day.  From the ride over the previous days with the surreal landscape we were all a little disappointed about what the Grand Canyon looked like.  I guess we were expecting something even more magnificent.   We met up with Maggie and Jen from Florida who were taking the same kind of trip we are but in a car.  They were also camping when they could and we spend the evening watching the sun set and a distant storm together.  We all agreed that everyone should take a trip like this at some point in their life.  You're never too old for this.
First casualty of the trip, a bird hit my kickstand mount and split in half.
When we left for day 8 there was an envelope with some American and Canadian money in it.  Adrian was at the Grand Canyon and had left money for one of the campsites earlier in the week.  The Canadian pennies made our day.
Day 8 brought us to the location that determined most of our trip, the annual Chile Festival in Hatch, NM.  It was something that we thought would be a fun far place to ride to.  When we got closer we discovered that everything was booked and so we pulled off on the side of the road and set up a tent to crash in.  We were dead tired and didn't notice the 10 million ants swarming around the site.  Either the ants or the heat got us out of bed the next morning and on the way to the festival where I won a gigantic bag of Chiles because I was from Connecticut.  If only I had a way to ride back with them!
Day 9 had us on our way to Carlsbad Caverns.  This wasn't going to be a full stop but we made it one.  After the Grand Canyon and Hatch we didn't have the trip planned out.  We had a few routes we could take along with a few places we thought would be cool to visit, but otherwise it was just us and the open road.   We got in too late to see the caverns that night, and the park doesn't offer camping, so we stayed at a disgusting campsite right outside the park entrance.  At a restaurant nearby we met another interesting girl who talked to us through our dinner.  It's amazing how many people will just come over and talk.  It's also amazing how nice drivers are once you get out of the East Coast.  Trucks would actually pull over onto the shoulder so we could pass, people wouldn't hog the passing lane, and every biker seemed to wave even across the Interstate.
Day 10 was our first run in with the law (well, second, but that one was to let an ambulance through.)  In Texas the Highway Patrol stopped us for doing 78 in an 80.  Well, in Texas those 80 zones are 65 at night, and he considered 9:00pm night, so $165 later I was on my way.  After crossing into El Paso our view of Texas changed.  For the first 50 miles it was very scenic and then it quickly became the most boring state we rode through.  We couldn't wait to get out of it.  Two border patrol checks later, we were spending the night in Shiner Texas.
Day 11 brought us the heaviest rain of the trip.  I picked up a $20 pair of rain pants from Wal-Mart and they managed to do the job.  Our gear kept us damp, not wet or dry.  After a full day of riding in the rain we weren't miserable.  What is it with the stupid sayings on the highway in Texas?
Day 12 brought us to our first beer breakfast as we visited the brewery in Shiner Texas that makes one of the best beers I've had, Shiner Bock.  We went on a tour of the place and then had dinner at a family Mexican restaurant.  While we had planned to not eat at any national chains, with the hours we were pulling in we found that to be impossible.  Places like this more than made up for it though.  The prices were cheap and the food was great.  The day was also our final attempt to break out of Texas.  We didn't make it out.  We spend the night a few miles from the border in Texarkana.  The south has a huge cricket problem!
Day 13 was another day of chasing rain storms to miss every one of them.  I guess I wouldn't say we missed them!  I was hoping to meet up with a guy in Missouri, but he had traffic court the next morning and couldn't ride with us on his Boulevard.  We took the roads a little slower based on some information from him.  (Thanks!)
Day 14 led us into St. Louis where we toured the Arch.  On the way to the garage I saw a black chunk of metal in the road.  I swerved to avoid it and a second later I hear a metallic clank at every wheel revolution.  My heart sunk.  The piece of metal I saw would have sliced my tire, not punctured it.  I also thought I swerved hard enough to avoid it.  After pulling off the side of the road I saw I did avoid it, and instead ran over a 4" piece of what looked like wire to connect chain link fence to the pole.  A quick plug later, 3 cans of compressed air, and a quick stop at a Midas to top the air off and we were back on our way.  Unlike Mt Rushmore which we didn't want to pay $21 to see (we thought it was a rip-off that they National Park Pass didn't let us in for free and after the tourist trap at The Corn Palace we weren't sure what we'd see that we didn't see from the side of the road) we paid the $18 to park our motorcycles.  We spent a few hours in the area and then went to a brewery for dinner.  I think it was the best meal we had on the trip.  Once we walked back to the parking garage we talked for a little while before heading out.  We paid the fee and then looked outside.  It was pouring!  On went the rain gear and we rode for about an hour before the weather cleared up.  We made it to Dayton, OH where every room was booked.  A few exits down we found a HoJo to spend the night in, but because we got in so late we had to be out of the room 7 hours after we checked in!
Day 15 was when the feelings of accomplishment and excitement started to build.  We'd be back in Delaware again and around things that are familiar.  We didn't have any kind of communication system on the trip so we were all left with our thoughts of what we just rode through together over the past two weeks.  There was construction on the PA turnpike that had closed it down at I-83.  Traffic and construction delays, congestion, people not moving over, truckers cutting us off, cars driving beside us forever soaking us with road spray…yep, we were back home!
Day 16 two of us went to a Mushroom Festival in PA and out for lunch at my favorite restaurant before I said goodbye and left for Connecticut.  A 250 mile trip used to be a big deal, now it was half of a day of riding!  I left around 6 and made it home a little before 10.  During the ride back home I started to miss the trip.  It was a lot of fun just sharing common experiences over the course of the trip.  Two of us never met before we rode, though I'm sure we're going to do this again.  We already started to talk about it during the final days of this trip.  It's amazing to think that we went 16 days with no email, no work, and no computers.  It was awesome!
For anyone planning something like this, I think 3 is the perfect number to ride with.  It's big enough to keep things fun and small enough that making decisions isn't hard.  We all agreed on the pace but when the leader wanted to ride faster we rode faster, and when whoever was leading wanted to go slower we went slower.  We started to think of lessons learned, and there really weren't many.  Below is the gear and trip summary for those interested.
Bikes: 2004 FZ6 (faster blue), 2006 FZ6 (slower red), Ducati ST3
Modifications: SW-Motech risers, Top Saddlery Seat, SW-Motech quick connect side racks, GIVI top rack, 2 46L GIVI side cases, 1 52L GIVI top case, Tourmaster 10L tank bag, Throttlemeister, Oxford Heated Grips.
SW-Motech risers: I don't know if I like these or not, but I don't dislike them, I wasn't in any pain, so I guess they are good!Top Saddlery Seat: I can't say enough good things about this seat.
SW-Motech quick connect side racks: While they never got disconnected during the trip, I love that I don't have to have the racks on for the 98% of the year that I don't use the side cases.
GIVI top rack: It's what lets the bike go from sport bike to useful bike!
2 46L GIVI side cases, 1 52L GIVI top case: Strong, durable, waterproof, it was money well spent.
Tourmaster 10L tank bag: I never used a tank bag before but it was great having a place for directions and all of the important stuff I'd want to take with me when I left the bike. At some point there was dampness on the map after riding through rain even though the cover was on it. All in all, it held up well and did its job. At $70 I think they're overpriced for what they do.
Throttlemeister: I rarely used this, but when I did I was glad it was there.
Oxford Heated Grips: Like the above, when I did use it I was happy I had it. These have been a nightmare for me. The first set I ordered had a defective power knob and the second set had the power knob fall off. The replacement is a digital controller which has 5 digital settings. The power button (small) has to be pressed for them to turn on which is a pain. They automatically turn off when the bike is turned off based on stator output, or in the case of the FZ6, any time that the bike is under 2000 RPMs. It became a pain to have to remember to turn them back on after every stop. I may try wiring them directly to the battery to see if this fixes this issue so I can use them this fall.
PIRELLI Diablo Supersport Tires: after 7000 miles they look like they have tons of life left in them. I'm really satisfied with them so far.
Gear: Joe Rocket Alter Ego 2 Jacket, Joe Rocket Alter Ego pants, Wal-Mart rain pants, Joe Rocket Sonic boots, Joe Rocket Rush gloves, FirstGear Mesh-Tex gloves, Scorpion EXO-700 helmet, tire patching kit, Supply-N-Demand (eBay) frame sliders.
Joe Rocket Alter Ego 2 Jacket: Great in hot weather, kept me dry for the most part. Takes some time to put the jacket back together when the weather got cold. It's a great system, I wish the liner was on the outside so that when the cold rain hits it's not right against the skin.
Joe Rocket Alter Ego pants: The pants leak in the rain. After the first storm I had this feeling that I should be wearing a diaper. Otherwise, a great outfit to wear for the trip. Being all black, I was the only one who didn't look like I rolled around in the mud for the last 2 weeks.
Wal-Mart rain pants: Wal-Mart could do what Joe Rocket couldn't!
Joe Rocket Sonic boots: Easy to get on and off, kind of tall, waterproof. I really liked these boots.
Joe Rocket Rush gloves: Great when the weather turned cold, impossible to get on when wet or damp, the jury is still out on if they're waterproof, but I don't think they are. The jacket let all of the water run down into the gloves when I stopped riding during the first storm, so after that I did the opposite of what you're supposed to do and put the liner of the jacket around the gloves instead of tucking it inside of them. This seemed to keep me much dryer, but the fingertips still felt damp after a full day of riding in the rain.
FirstGear Mesh-Tex gloves: Crap quality. Took 2000 miles until the things didn't cut my finger tips from the rough edges and after that they started to come apart at the seams. Works for a lightweight glove with the illusion of protection.
Scorpion EXO-700 helmet: Sorry Scorpion, you had me screaming in my helmet. For some reason this thing caused extreme pain in my left ear the way it fit. Oh, and another minor detail IT'S NOT FREAKING WATERTIGHT. I had a stream of water down the visor every time it rained. The anti-fog visor would fog up despite having a breath guard. Why is a breath guard even needed if the thing can't fog up in the first place? The chin vent failed sometime in the first week and doesn't stay open or closed so it would whistle while riding. I've never been more upset at a piece of gear before this. What I did like about it is the visor will stay open at speed, the liner really does wick away sweat, and tons of air flow in the heat. (The air flow though is a big negative when the weather turns cold.) And despite what webbikeworld might say, the thing isn't at all quiet on our bikes. Did I mention I'm disappointed in this helmet?
Tire patching kit: Patched my tire, but the three bottles of CO2 were only enough to get my rear tire up to 25 PSI.
Supply-N-Demand (eBay) frame sliders: It was great to have these to put my feet up on for a few minutes to switch positions.
Rockstar energy drinks: When you're a rockstar, you're a rockstar!
Day 1 – 249 miles
Day 2 – 650 miles
Day 3 – 650.4 miles
Day 4 – 401.5 miles
Day 5 – 481.2 miles
Day 6 – 473.6 miles
Day 7 – 553.6 miles
Day 8 – 0 miles
Day 9 – 646.7 miles
Day 10 – 285.8 miles
Day 11 – 291.4 miles
Day 12 – 332.6 miles
Day 13 – 450.6 miles
Day 14 – 431 miles
Day 15 – 486 miles
Day 16 – 525.6 miles
Day 17 – 248.1 miles
Total Miles 6918
Total Gallons 160.4551168
Average MPG 43.11486065
Average CPG 2.894516606
Average CPM 0.06713501
Gas Total 464.44
Max Miles tank 195.1
Max Gallons 4.573
Max Cost/G 3.379
Max Cost Tank 13.34
Cliffs: Went on a motorcycle trip, it was a great time!
Tornado shelter

Iron Mountain Road

Needles Highway

Needles Eye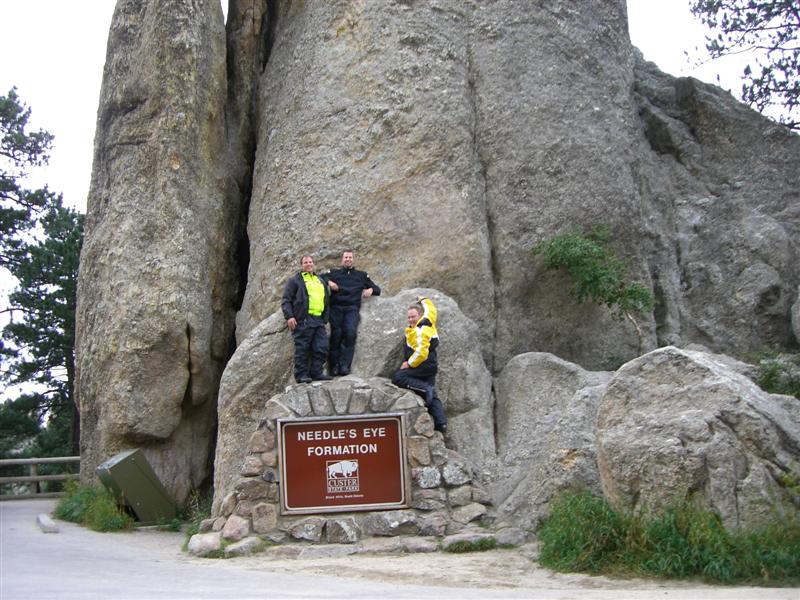 How many grades of gas do people need?

Arches National Park

Grand Canyon

Grand Canyon Sunset

Hatch, New Mexico

Surprise, it was overheating

St. Louis Arch Tram

Partying like Rockstars

They still use these kinds of pumps

One is too many for this world

Great place to break down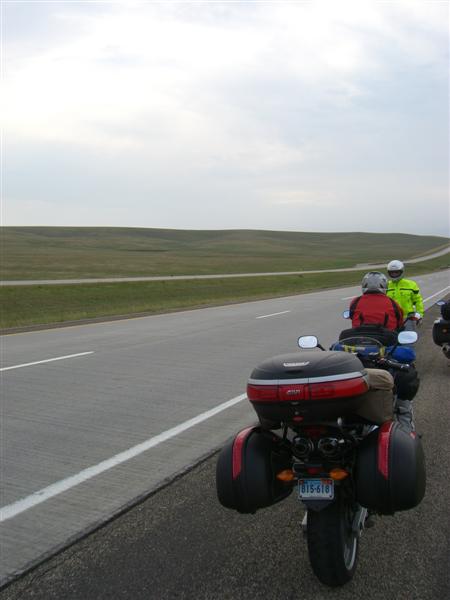 Badlands National Park

Badlands sunset

Badlands

Badlands

Somewhere near Badlands

Met Adrian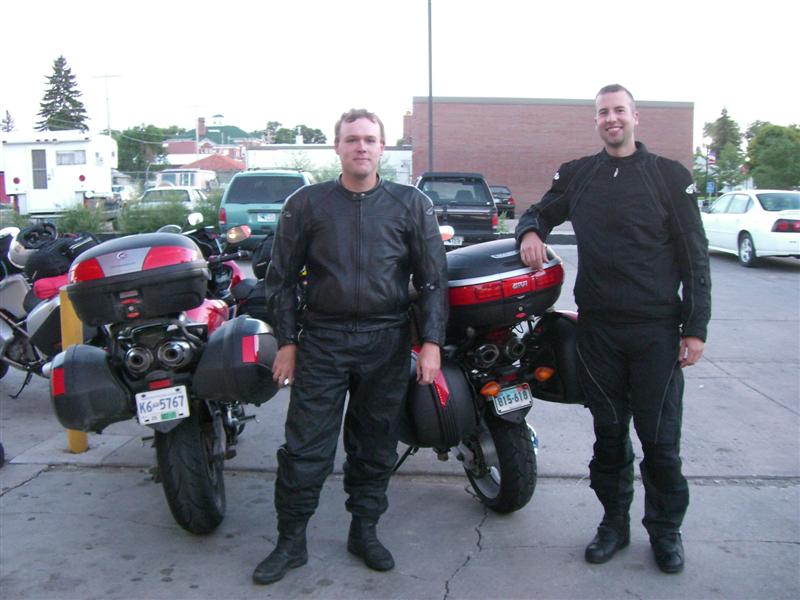 I-70

Rocky Mountain National Park

Mark, Mark, and Brooks

Continental Divide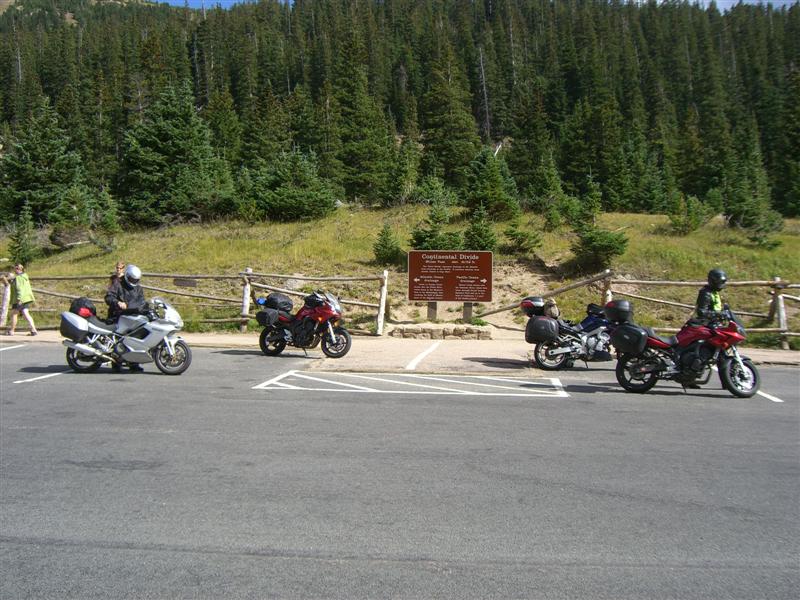 I have no clue how often we had to clean our visors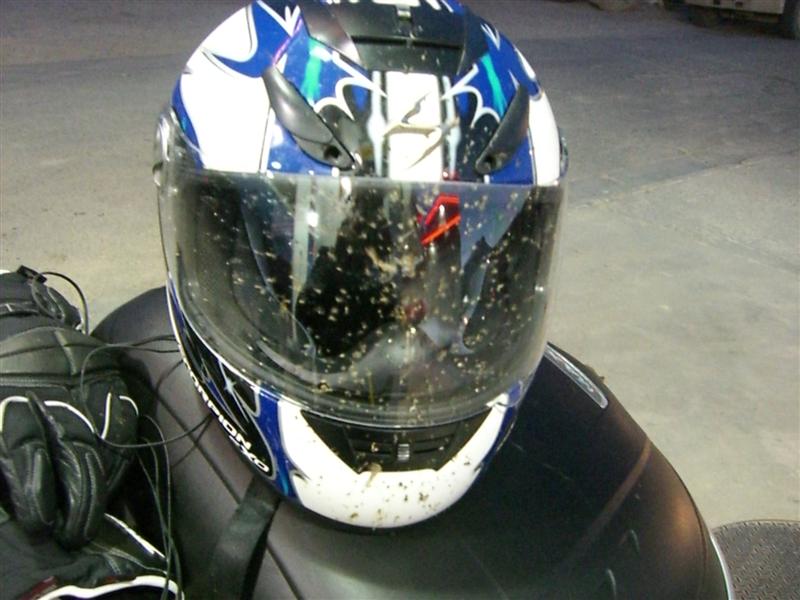 Camping at Arches National Park

Store in the mountain

View from the road

The view again

Just your typical post office in a gas station

No vacancy – the story of our trip

Grand Canyon sunset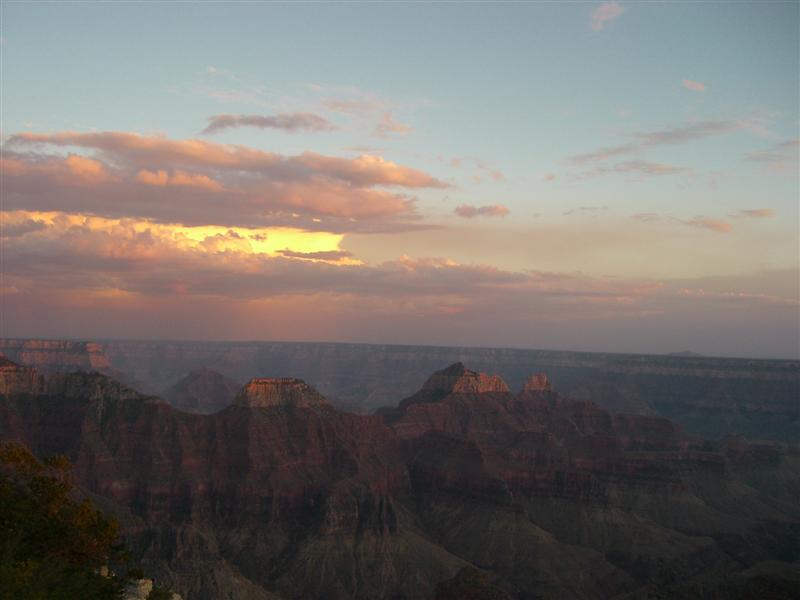 Route 66

Heading into Texas

Shiner Brewery, , , , .

Tire damage

The culprit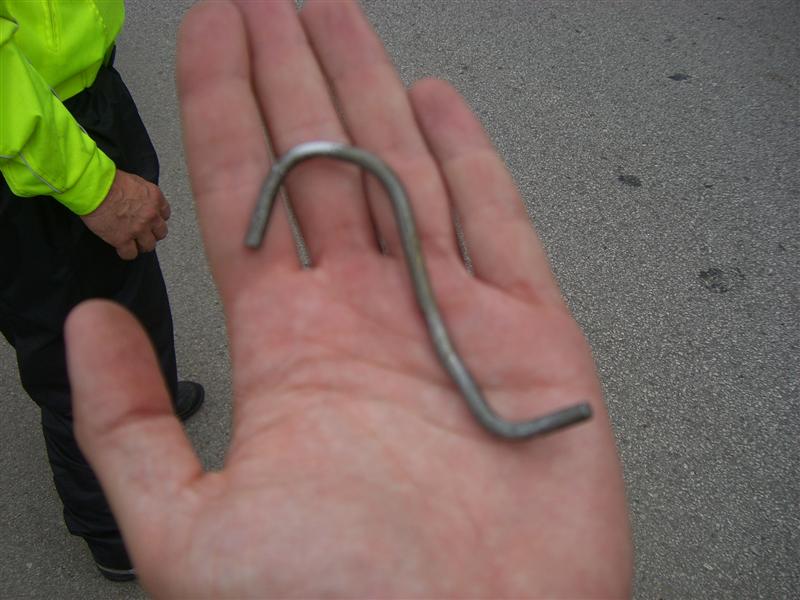 St. Louis Arch

Top of the Arch

The Mississippi River (it's tiny, the Colorado river is even smaller)

My tires after 7000 miles

Welcome back to society